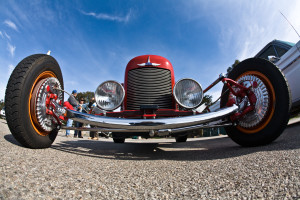 When it comes to vehicles modifications, there is often a delicate balance between what an average auto insurance providers will cover and the need for specialty auto insurance. There are times when standard auto insurance policies are not sufficient to properly ensure some types of vehicles, for example hot rods, vintage and antique vehicles and highly modified autos. In these cases, auto owners, collectors and enthusiasts can turn to a specialty auto insurance policy to secure the necessary coverage.
In general, specialty car insurance provides coverage for expensive, exotic or otherwise nonstandard vehicles that require special coverage considerations and adjusted coverage amounts. When it comes to highly modified vehicles, custom jobs and "tricked-out" rides, auto owners often find themselves needing such additional coverage. However, not all vehicle modifications require specialty auto insurance. While tinting windows or installing new stereo or security equipment often has little impact on an owner's ability to secure auto coverage through a standard market, what does matter are major performance enhancements and body styling changes.
If the changes are designed to improve the power, performance or overall quality of the vehicle, the auto will most likely qualify as a specialty auto. Each insurance provider has their own specific standards for what qualifies as a modification, however specialty modifications often include:
-Custom paint jobs
-Structural changes to the frame and/or body such as: Front or rear spoilers; Custom wheels, tires or spinners; Vertical doors; Custom grilles; Side pipes; etc.
-Significant performance enhancements like engine, steering, exhaust or suspension enhancements.
When it comes to attaining the right specialty auto insurance coverage, it is often beneficial to work with an insurance agency that specializes in this niche area, as opposed to general consumer vehicle coverage. At Condon Skelly, we know how exciting collecting specialty, exotic, and classic cars can be. That's why we specialize in offering complete specialty auto insurance. We are a group of collectors, enthusiasts, and professionals who specialize in insuring all types of collector vehicles. Our team is as passionate about protecting your vehicles as you are about collecting them. We can help you secure affordable, industry-leading specialty auto insurance coverage to protect your classic, antique, or exotic vehicles. For more information about us and our specialty insurance programs, contact our specialists today at (866) 291-5694.