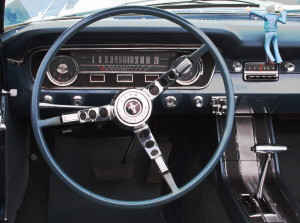 Florida-based Revology Cars recently revealed what they are calling the Revology Mustang, and these new Mustangs quickly caught the eyes of auto enthusiast and industry professionals. Sporting the classic and iconic body styling of the 1964-1966 Ford Mustangs, the Revology Mustang is a spitting image of the past with a modern flair for luxury. With a list price of $119,500, these reimagined classics offer features that include a 265-horsepower, Windsor V-8 engine, LED head and tail lamps, 18 miles-per-gallon fuel efficiency, a hidden antenna and one-year bumper to bumper and five-year body corrosion warranties, according to Car and Driver magazine.
Here's the catch; the vehicles aren't actual classic 1960's Mustangs. Instead, Revology's specialty Mustangs are reportedly licensed Ford Mustang replicas based on the original production line that ran between late 1964 and 1966. Revology is coupling authorized reproduction bodies and equipment with luxury amenities such as air conditioning, bluetooth compatibility, USB and auxiliary ports, power windows and locks disguised as classic window cranks. The new autos also offer a power convertible top, power steering, anti-lock brakes and a collapsible steering column, and number of other modern safety features that just weren't available on the original model. Revology Cars founder Tom Scarpello reportedly remarked that the new vehicles are designed for "nostalgic Mustang fans who love the sleek and minimal look of the classic Ford vehicle but want modern fuel efficiency, power and handling."
According to reports, the reaction from industry fans and critics is split. Some are praising the vehicles as a practical solution to modern luxury machines and vintage appeal, while others are saying that the price far outweighs any practicality for the product. Online commenters were quick to scoff at the specialty vehicle's steep price tag, saying that collectors would be better off buying an original 1966 Mustang and having custom work done, according to the New York Daily News. Still, many specialty auto and Classic Mustang enthusiasts are intrigued by the new replicas. Revology Cars is currently looking for factory space to produce these vehicles on an made-to-order basis.
At Condon Skelly, we know how exciting collecting specialty, exotic, and classic cars can be. That's why we specialize in offering complete specialty auto insurance. We're a group of collectors, enthusiasts, and professionals who specialize in insuring all types of collector vehicles. Our team is as passionate about protecting your vehicles as you are about collecting them. We can help you secure affordable, industry-leading specialty car insurance coverage to protect your classic, antique, or exotic vehicles. For more information about our specialty car insurance, contact our specialists today at (866) 291-5694.