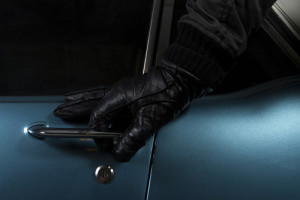 Imagine, you turn on the news only to see your prized classic vehicle battered and stranded by the side of the road. Having your vintage ride turn up missing would be painful enough, but the idea of finding it damaged after being stolen would be almost unbearable for many auto enthusiasts. While a strong antique classic car insurance policy can help mitigate the financial impacts, the moment would still likely be highly emotional.
Such could be the case if the owner of a stranded classic American muscle car steps up to claim their property. British police officials are making an international call to find the owner of a classic 1969 Chevrolet Impala Super Sport with plates registered in the US. According to reports, police have been desperately hunting the owner of the 1969 Impala after it was left abandoned in an intersection last month during rush hour traffic near London. The vehicles has suffered considerable amounts of damage to the the front bumper and hood but looks to have been in well-kept condition prior to the recent damage. The vehicle has an Idaho license plate which has been released through the media in hopes of alerting the owner who authorities believe might not even be aware that their Impala is missing. UK authorities believe that the vehicle may have been stolen and dumped by joyriders as the model is a rarity in the United Kingdom.
Classic vehicle theft is not as uncommon as many collectors would hope. In fact, there have been a number of recent reports of classic and vintage vehicle thefts over the last few months including the theft of another classic Chevy valued at over $45,000 from a Florida dealership and the theft or a rare 1987 Buick Grand National worth nearly $40,000 in Minnesota. Many of these thefts have taken place at restoration shops and dealerships. It is important that auto collectors choose their auto shops, dealers and storage facilities carefully in order to ensure that their vehicles are not only handles with care but protected in the event of a theft or break-in.
At Condon Skelly, we know how exciting collecting exotic, classic and sports cars can be. That's why we specialize in offering complete classic auto insurance. We're a group of collectors, enthusiasts, and professionals who specialize in insuring all types of collector vehicles. Our team is as passionate about protecting your vehicles as you are about collecting them. We can help you secure affordable, industry-leading specialty car insurance coverage to protect your classic, antique, or exotic vehicles. For more information about our classic car insurance, contact our specialists today at (866) 291-5694.