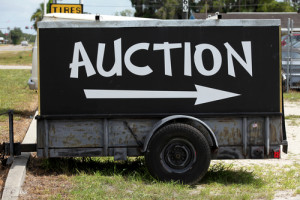 Auto enthusiasts are gearing up for the latest in a string of high profile, large lot auto auctions. On February 27th and 28th, Mercum Auctions will be hosting and orchestrating the sale of more than 230 cars on from the Rogers' Classic Car Museum in Las Vegas. The vehicles were amassed by late collector Jim Rodger's over the course of his life and housed in the museum which was designed to "represented the American working man's climb to success" according to his widow Beverly Rogers.
According to Mercum, all vehicles will be sold "as is" on site. While all the autos have been maintained outwardly and aesthetically, many of the vehicles have not been started or driven in many years, the auctioneers note. As such will likely need service attention and light mechanical work to fully restore the pieces to working order. According to reports, some vehicles may even be in mid-restoration condition, as parts of the collection were undergoing restoration or being refurbished when the museum closed it's doors.
Still antique and classic car collectors are anxious for the upcoming auction. Pieces in the collection range for antique to modern exotic machines. Some of the most anticipated pieces include a 1915 Ford Model T, various early Cadillacs, a rare 1956 Dual-Ghia convertible, and a 1962 Rolls-Royce Mulliner Drophead Coupe.
Large collection auto auctions are becoming increasingly common. Earlier this year RM Auctions announced it would sell 75 vehicles from the collection of Paul and Chris Andrews with highlights including a 1935 Duesenberg and a number of other gems, according to Motor Authority. Similarly, a 100-car collection discovered last December in France unearthed a number of rare European sports cars. Many of the vehicles had suffered damages and deterioration from neglect and non-use, however collectors were still eager to scoop-up the 60 autos that actually made it to the block. Many of these large collections have countless diamonds in the rough just waiting to be restored to their former glory. Some industry experts believe that perusing these estate-like sales might become the modern equivalent of stumbling upon an illusive barn find.
At Condon Skelly we write policies specifically designed for the classic, vintage and specialty vehicles. We strive to keep your antique and classic car insurance costs low so that you can spend more time on the road. Our policies cost about 60% less than standard auto insurance companies, and they're designed specifically for unique needs of classic and collector cars. While many classic car insurance policies restrict usage to 6 months, we make sure you get the most enjoyment out of your vehicle by removing mileage caps. To learn more about us and our specialty vehicle insurance programs, contact us today at (855) 735-2844.